Lecturer: Gert Westermann
Fields: Psychology, Neuroscience, Cognitive Science
Content
Curiosity has been described as an important driver for learning from infancy onwards. But what is curiosity? How has it been conceptualized, and how has its role in infant learning been identified and characterized? This course will describe the main theories of what curiosity is and how it affects behaviour, and how recent developmental research has studied curiosity in infants and children. Here I will address children's active role in their learning and in their language development, as well as their preference for specific types of information. I will also touch on the role of play in infant and child development. Computational modelling can help us to develop theories of the mechanisms underlying curiosity-based exploratory behaviour, and I will discuss some of these models.
This course does not require any prior knowledge and all topics will be introduced gently.
Objectives
At the end of this course you will be able to
describe the major theories of curiosity
explain how scientists conduct studies with infants
describe the research done with infants and children on curiosity-based learning
explain principles of computational modelling and some relevant models of curiosity-based learning
Literature
Bazhydai, M., Twomey, K. E., & Westermann, G. (in press). Exploration and curiosity. In J. B. Benson (Ed.), Encyclopedia of Infant and Early Childhood Development, 2nd ed.
Gottlieb, J., Oudeyer, P.-Y., Lopes, M., & Baranes, A. (2013). Information-seeking, curiosity, and attention: computational and neural mechanisms. Trends in Cognitive Sciences, 17(11), 585–593. http://doi.org/10.1016/j.tics.2013.09.001
Kidd, C., & Hayden, B. Y. (2015). The Psychology and Neuroscience of Curiosity. Neuron, 88(3), 449–460. http://doi.org/10.1016/j.neuron.2015.09.010
Loewenstein, G. (1994). The psychology of curiosity: A review and reinterpretation. Psychological Bulletin, 116(1), 75–98. http://doi.org/10.1037/0033-2909.116.1.75
Lecturer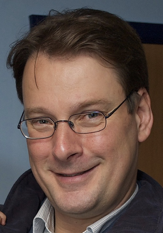 Gert Westermann studied Computer Science in Braunschweig and Austin, TX, and received a PhD in Cognitive Science from the University of Edinburgh. After postdocs at the Sony Computer Science Lab in Paris and at Birkbeck College, London, he worked at Oxford Brookes University for several years and in 2011 joined Lancaster University as Professor of Psychology.
Gert is Director of the Leverhulme Trust Doctoral Scholarship Centre on Interdisciplinary Research in Infant Development which trains 22 PhD students on infancy research, and co-director of the ESRC International Centre for Language and Communicative Development which is a large-scale collaboration between the Universities of Manchester, Liverpool and Lancaster.
Gert's research takes an interdisciplinary approach, combining looking time, pupil dilation, ERP, fNIRS, and behavioural studies with computational modelling to investigate the early cognitive, social and language development in infancy, with a recent focus on curiosity-based learning.
Affiliation: Lancaster University
Website: https://www.lancaster.ac.uk/sci-tech/about-us/people/gert-westermann