Heinrich-Lübke-Haus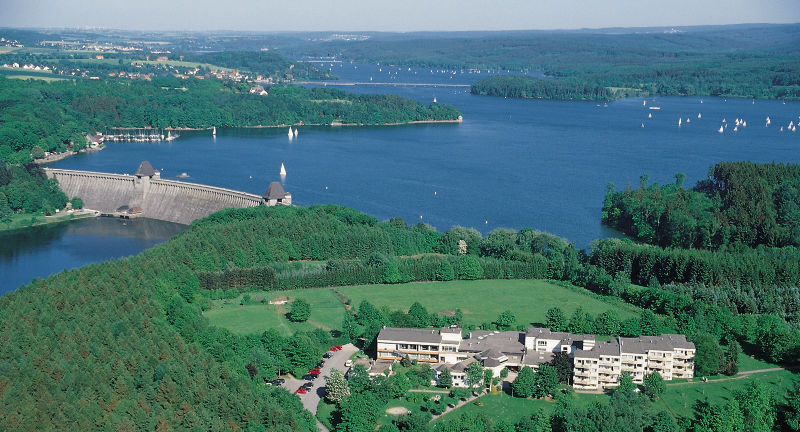 Zur Hude 9
59519 Möhnesee-Günne
Germany
Phone: +49 (0) 2924 / 806-0
Fax: +49 (0) 2924 / 806-402
Travel information
Travelling by train. Take advantage of the discounted German Railway (DB) rates for in- and outbound travels to GI events, such as the Interdisciplinary College, with Deutsche Bahn. You get these rates at the GI page (in German) or at the Deutsche Bahn page (in English).
You can access the Heinrich-Lübke-Haus
By car: Heinrich-Lübke-Haus, Zur Hude 9, 59519 Möhnesee-Günne, Germany. Please use the participant list (you received the password via e-mail on Feb 19) for carpooling.
By plane: well-connected airports close by are Düsseldorf and Köln. Travelling from oversea you might want to fly to Frankfurt am Main. Local airports are Paderborn and Dortmund. From every of these airports you have to go to Soest by train.
By train: The train station closest to the conference location is "Soest".

Shuttle Service: On the first and last conference day, there will be a time-limited shuttle service for those of you arriving by train. Shuttle buses will be waiting at the train station at 12:00h and 13:15h on Friday, March 1st, and will leave to the train station at 11:00h and 13:00h on Friday, March 8th. In case you want to use one of the shuttles, please use this form until February 8th, 20:00h. Link to the form

Public Transportation: Should you arrive at any other time please arrange transport to the Heinrich-Luebke-Haus yourself. Timetables for public transportation can be found at the train station or at http://www.rlg-online.de.
Taxi: You may call Taxi Alex (Tel. +492921 80277) and refer to Heinrich-Luebke-Haus. The cost should be about 30 EUR.
Accessibility
Building and accommodation
The main accommodation during IK, provides a completely wheelchair-accessible house. There are several rooms (3 people bedrooms) with a wheelchair-accessible bathroom (including an accessible shower). Every floor of importance for the spring school is linked with a lift and is accessible for people with reduced mobility.
Bathrooms
There is no gender neutral or wheelchair-accessible public toilet, but the talks and courses are in the same building as the accommodations (or in a forum right next to the house), therefore it will be possible to access the personal (bath-)room in-between the classes.
Hearing and sensory processing
The spring school itself is a somewhat loud place, just due to the number of people engaged in conversation. Especially the mealtimes take place in a noisy environment (a big cafeteria where everybody gathers, talks, discusses, and eats).
The talks and classes are pretty similar to standard university lectures (except that the participants usually all try to actually follow). The evening lectures however bring all the participants together (around 200 people), and so will be the most challenging with respect to sensory processing and focus. If you want to participate in these lectures, it is advisable to arrive early to get a good seat close to the speaker to address sensory or attention difficulties.
Food
The house offers meaty, vegetarian, and vegan options. If you have additional food restrictions, please let us know during registration. The staff tries their best to label the food with regards of typical allergens. Please feel free to ask them if you need information relevant to your food choices.
If you have to follow a specific diet due to allergies or an intolerance, please check in with the kitchen staff to discuss the daily menu options for you.
Activities
The surroundings are perfect for jogging or biking for those of you who like outdoor exercise. There is also an indoor pool and a sauna and you may play skittles, billiard or table-tennis.
All in-door activities are subject to the Covid-19 regulations at the time of the conference.
Pool​: There is a pool. This means you can enjoy an early morning swim as well as the traditional water polo preferably starting after midnight. Please, do not use the pool alone but make sure you have someone with you who could potentially get help in case of emergency. However, please make sure that you don't bring anything made of glass to the pool area. Should you, for some reason, cause any trouble (breaking sth. etc.) please do not be shy and tell us such that we can take care of it.
Sauna​: Heinrich Lübke Haus has a sauna! If you want to use it for a small fee (20 Euro), come to the "Glaskasten" at least 2 hours in advance since it needs time to heat.
Billiard: ​There is a billiard table in the basement. You can pick up billiard balls and cue at the "Glaskasten" in exchange for your name. Please, return them back later.
Table Tennis: ​There is table tennis in the basement. Bring your own rackets and balls.
Bowling alley: ​There is a bowling alley in the basement. You can simply go there and start a game.
Bikes​: The Möhnesee is a great outdoor area. You can discover it by bike since Heinrich Lübke Haus has free bikes. To get one, you have to pick up the key for the bicycle cellar at the "Glaskasten".
Jogging​: There are a lot of nice jogging tracks to discover around the Möhnesee
Music in the fireplace area​: At night there are often spontaneous jam sessions in the fireplace area close to the "Glaskasten". There is a piano there and you are of course welcome to bring your own instruments. So don't be shy and join in!
Bar​: There is a bar in the basement. It is a cozy place to continue interesting chats about the lectures you heard throughout the day or just to get to know awesome people. You can buy all kinds of drinks and some snacks there for little money. The bar opens up every night at around 19:00.
This means that swimming clothes, sports clothes and table tennis rackets should be on your packing list.
Contact information
Should you have anymore questions, just contact our conference management by phone (+49 171 20 77 089) or email (info@interdisciplinary-college.org). Starting from the first day of the conference, you may also contact them at the conference location (+49 2924 806-0).