Poster and Demo Session

We encourage each participant of IK to present their latest research projects at the IK Poster and Demo Sessions. The IK Poster and Demo Sessions are a great opportunity to present what you or your group are working on, get in touch with students and researchers who are interested in related issues, and exchange ideas. If you would like to present a poster, please download the following poster abstract templates and follow the instructions contained therein. Please submit your poster abstract only after you have received positive confirmation of your registration.
Template in Word (.docx) format: Link
Template in LibreOffice (.odt) format: Link
Template in LaTex (.tex) format: Link
The maximum size for posters is A0 (841 x 1189 mm) and the orientation should be portrait format. If, for any reason, you are not able to adhere to these specifications, please let us know in advance. You will not be able to print your poster at IK, so please do that in advance and bring your poster with you to IK.
We also encourage you to bring demos of the work described on your poster. These may include videos, AI or programs, robots, hardware demonstrations, or anything else that you feel might give an impression of your work. Simply let us know if you plan on giving a demo when submitting your poster abstract and what your needs are (audiovisual equipment, space). We will do our best to accommodate you. If you have any questions concerning the poster and demo session or abstract submission please do not hesitate to contact us at poster@interdisciplinary-college.org.
The submissions are not anonymous and will be reviewed briefly by a committee composed of members of the executive committee (jury review). The reviews will assure that the posters adhere to standards of scientific work and publishing while inviting a broad range of work to be presented during the poster and demo sessions. Potential review outcomes are either: accept, accept with minor revisions, or reject.
Submission deadline: February 3rd, 2020
Best Poster Award

This year, the German Cognitive Science Society (GK) is sponsoring a best poster award of 300 EUR / 200 EUR / 100 EUR for the first, second, and third place respectively. We gratefully acknowledge the support.
Rainbow courses
IK is a community-driven event and acknowledges the important role of young and upcoming researchers. You will be the future of our fields and many young researchers (in terms of research years) amongst the IK participants already have considerable research experience and expertise in quite specific areas to share. The Rainbow Courses (RCs) are a perfect venue for doing exactly that in a recognized format.
PLEASE NOTE: In the past, applications to present an RC were bound to also submitting a poster. This is no longer required!
The schedule will allow for three single lecture slots (60 – 90 minutes) for RCs, which will be integrated into the main program, in parallel to the normal courses.
Potential Rainbow Courses should cover an exciting field of research within neurobiology, neural computation, cognitive science, psychology, artificial intelligence, machine learning, robotics, data science, and philosophy and should reasonably complement the focus theme of the IK. The course should give an up-to-date summary of your field or area of research, be accessible to all IK participants, and may also give a more detailed overview of (some of) your own research.
Participants interested in giving a Rainbow Course should submit a brief application containing an abstract of the intended course (max. one page), a short CV (one or two paragraphs) and a list of relevant publications and communications, using the following template.
You are welcome to submit your slides / course materials (all PDF only; max. 5 MB total data) together with your application, but this is not mandatory.
Applications will be considered regardless of the academic status of the applicant (undergraduate, graduate student, PhD student, etc.). The selection process will be based on how the topic provides additional phenomenological and methodological perspectives to the focus theme, the importance of the research theme for the IK community, and the prospective quality of the course. The submissions will be reviewed by a committee composed of members of the executive committee (jury review). Potential review outcomes are either: accept, accept with minor revisions, suggestion to resubmit as an /ik/hack (e.g., lightning talks, demos, and workshops that happen in the off-schedule hours and in less busy timeslots), and reject.
Submission deadline: February 3rd, 2020
Again, if you have any question about the Rainbow Courses, please contact us at rainbow@interdisciplinary-college.org.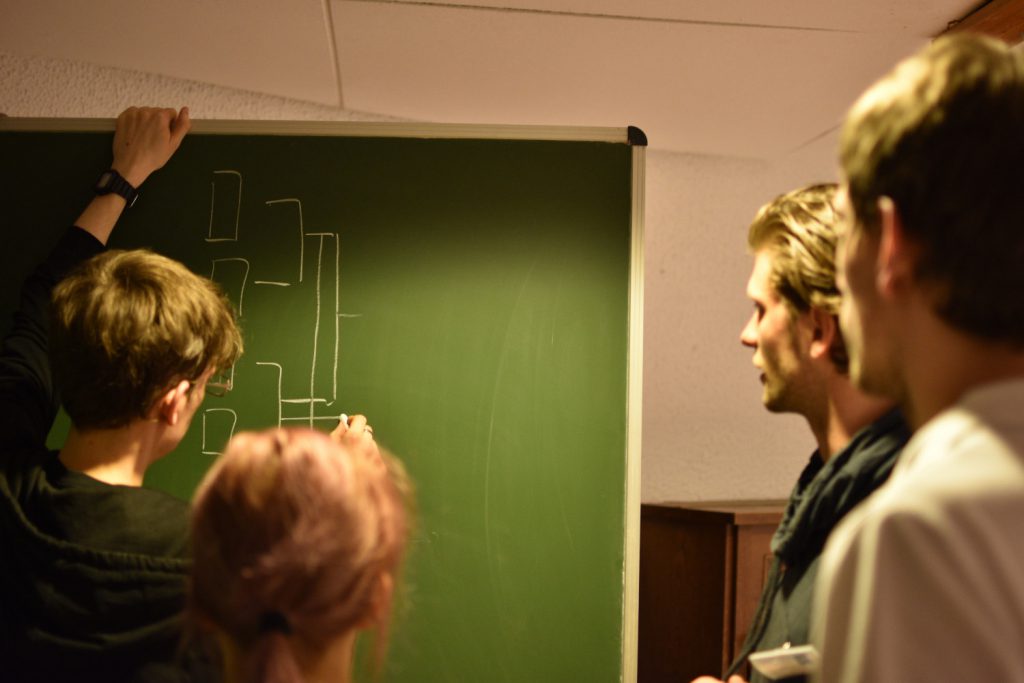 ECTS credit points for IK participation
One week of IK participation represents one very intense week of interdisciplinary academic training on a mostly graduate level. Some universities have acknowledged this academic substance by awarding ECTS credit points for attending students. It lies in the discretion of the student's home university how many credit points are given, and what students are eligible (e.g., graduate and/or undergraduate, or only for students enrolled in academic programs related to the IK themes). As of August 2015, the following institutions grant 2 to 4 ECTS credit points for IK participations:
University of Köln
University of Osnabrück
Jacobs University Bremen
University of Vienna
University of Tübingen (Graduate Training Centre of Neuroscience)
University of Oldenburg (students of the master programs MSc Neurocognitive Psychology and MSc Neuroscience get 3 ECTS)
Note that specific regulations apply at these institutions, e.g. ECTS credits may be acknowledged only for specific study programs or after an application of the student to the institution.
The organizers of the IK encourages student participants to approache the academic offices of their home institutions and suggest to them to give ECTS credits for an IK participation. An information package and support in approaching university officials can be requested from Herbert Jaeger.
Call for Sunshines
Sunshines are volunteers who assist one particular lecturer by preparing the room and technical equipment.
If you volunteer as a Sunshine, you will receive an email telling you which lecturer you will assist at IK.
Your task as a Sunshine is to
come to the Glaskasten (this is the reception where you will get your name tag upon arrival) 15 min. before the lecture starts and get the key for the room
also get a bottle of water and a glas for your lecturer from the bar in the dining hall
open the room and help your lecturer to set up the technical equipment s/he needs
be present throughout the lecture in case your lecturer needs any assistance
lock the room after all people have left and bring the key back to the Glaskasten immediately.
If you are a Sunshine on the first day, please make sure that you arrive on time to check in, get to know the location and do your Sunshine tasks as outlined above. We expect to meet all Sunshines in the cafeteria during the first coffee break for an introduction.
In case you have any questions, please contact us (elisabeth.zimmermann@univie.ac.at or Felix.Schmitt@oeaw.ac.at).
Call for Moonshines
Moonshines are volunteers who offer to support participants in navigating the IK socially.
If you volunteer you will get an email verifying that you are a Moonshine, and you can choose which small tasks you want to undertake.
As a Moonshine at IK 2020 you will:
together with another experienced member,
lead one of the IK interaction groups on Friday evening.
(you will get a briefing that you can follow)
assist participants navigating IK socially.
help offering the open table at lunch or dinner in the first days of IK
Therefore should:
have participated at IK before
be familiar with the IK code of conduct
have an interest for including a wide diversity of people at IK
If you are interested in being a Moonshine at IK 2020, please send a short note to zam@fachschaft.techfak.de .