Lecturers: Jens-Steffen Scherer, Valerie Vaquet & Kayson Fakhar
Fields: Science Communication

Content
As scientists, we are used to communicating our research to colleges, especially via journal articles. However, living in times of fake news, alternative facts, and conspiracy theories, it is more and more expected from researchers to also engage in public debates and to explain their science to laypersons – the current pandemic, the role of AI, climate change, or genetic engineering just being some examples. Therefore, this practical course tries to cover the essentials of science communication, ideally serving as a starting point for you to engage in SciComm yourself.
While sessions 1 and 4 form the framework for participating in an interactive online workshop that runs throughout IK, sessions 2 and 3 are stand-alone and can be joined individually if participants are interested in one of the topics specifically.

Session 1 (March 8, 5:15 pm): In the first session we will introduce you to an online workshop on Science Communication, running in Stud.IP, the learning environment of the University of Oldenburg. Guest accounts for Stud.IP will be provided. The workshop deals with fundamental questions: What exactly is science communication? Who are the key actors? Should we as scientists bother? And, if yes, how do we communicate successfully? While answering these questions, we will find our core message, think about our audience, and encounter different formats of SciComm. You can work on the workshop asynchronously and at your own pace during IK. We will then discuss the concepts and ideas in session 4.
Session 2 (March 10, 5:15 pm): One easy way to start engaging in science communication without a huge time commitment is giving a science slam. In this session, we will take a closer look at this fun format. We will share some tips on how to prepare a good science slam which will be also useful to you when preparing presentations for your university seminars or conferences. This session is a stand-alone.
Session 3 (March 14, 5:15 pm): This session is all about visuals and design. We will discuss how we can design "processes" using common flowcharts first, then how to make them more visually appealing and informative by restraining colors and visual elements. In the end, you will have a better idea about how to provide a better understanding of your research project itself by communicating it visually. This session is a stand-alone.
Session 4 (March 16, 5:15 pm): Time to reflect! You got a first impression of SciComm and learned about science slams and visual design in particular. In the last session, we will discuss questions, ideas, and feedback that came up during the online workshop.
Lecturers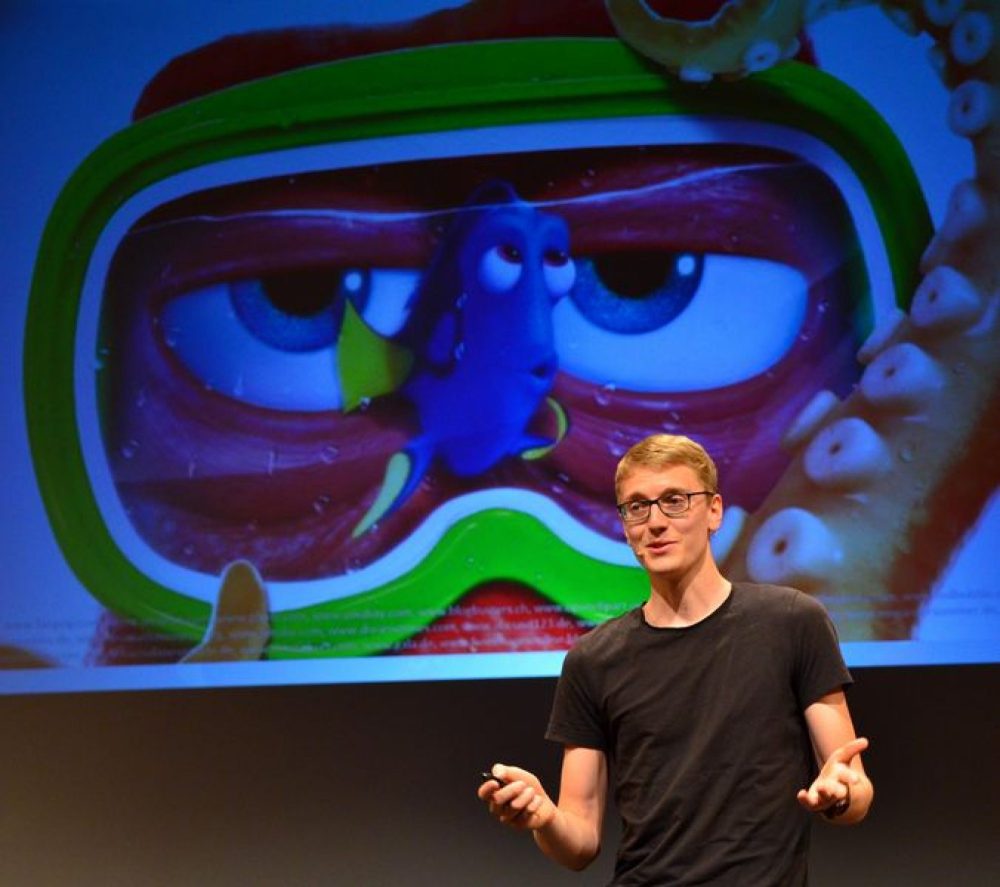 Jens-Steffen Scherer studied Psychology (B. Sc.) at Mannheim University and Neuroscience (M. Sc.) at the University of Oldenburg where he is currently pursuing his Ph.D. Besides, he works as a freelance moderator and science communicator, having experience with science slams, podcasting, blogging, and educational TV.
Affiliation: University of Oldenburg
Homepage:jenssteffenscherer.com
Valerie Vaquet is a PhD-student in the machine learning group at Bielefeld University. Her research is focusing on transfer learning and finding invariant representations for hyperspectral imaging data. Besides, she took part in the international science communication competition "FameLab – Talking Science" in 2019. Since then, she has joined multiple science slams across Germany.
Affiliation: Bielefeld University
Kayson Fakhar studied Clinical Psychology (B. Sc.) at the University of Tehran and Neuroscience (M. Sc.) at the University of Oldenburg. Since 2018 he is doing his Ph.D. at the Institute of Computational Neuroscience, UKE,
Hamburg. Before his career in Neuroscience, he worked as a graphic designer.
Affiliation: UKE, Hamburg
Homepage: kaysonfakhar.com