Lecturer: Thekla Morgenroth
Fields: Psychology
Content
Female gamers are seen as atypical and often have their competence challenged in gaming spaces. We argue that this is partly driven by masculine gamer stereotypes and that exposure to female gamers has the potential to change them. We investigate the content of gamer stereotypes across two studies and find that they contain both negative aspects, such as lacking social skills, and positive aspects, such as being competent and agentic. Both studies demonstrate that gamer stereotypes are more similar to stereotypes of men and boys than those of women and girls. In Study 2 we further find evidence suggesting that exposure to a female gamer can change the negative association between female stereotypes and gamer stereotypes. We conclude that increasing the visibility of female gamers could potentially reduce the incompatibility between femininity and gaming and alleviate some of the issues female gamers currently face.
Literature
Blackburn, G., & Scharrer, E. (2019). Video game playing and beliefs about masculinity among male and female emerging adults. Sex Roles, 80(5-6), 310-324.
Paaßen, B., Morgenroth, T., & Stratemeyer, M. (2017). What is a true gamer? The male gamer stereotype and the marginalization of women in video game culture. Sex Roles, 76(7), 421-435.
Wasserman, J. A., & Rittenour, C. E. (2019). Who wants to play? Cueing perceived sex-based stereotypes of games. Computers in human behavior, 91, 252-262.
Lecturer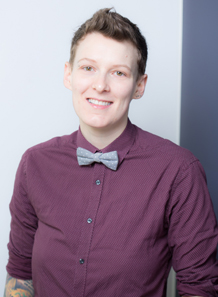 Dr. Thekla Morgenroth received their PhD in Social and Organizational Psychology from the University of Exeter in 2015. Their research focuses on how and why people maintain social hierarchies with a specific focus on the barriers encountered by members of the LGBTQ+ community and women.
Affiliation: University of Exeter
Homepage: https://psychology.exeter.ac.uk/staff/profile/index.php?web_id=Thekla_Morgenroth